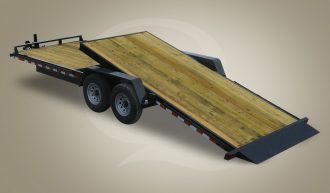 At Quality Trailers, we manufacture a broad line of equipment tilt trailers to fit any need. This includes two different types of trailer.
General Duty: Fixed front deck with 15′ tilt section, heavy duty frame (see spec sheet) with 24″ cross member spacing, rubber mounted sealed beam with conventional wiring with gel filled connectors.
Professional Grade (in addition to General Duty features): Heavy duty frame with 16″ cross member spacing, radial tires, LED rubber mounted sealed beam lighting in enclosed boxes with sealed modular wiring harness.