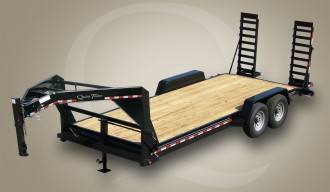 Quality Trailers manufactures Gooseneck Equipment Trailers in two categories of component features.
Our General Duty Equipment Trailers are available in 10,000 lb., 12,000 lb., and 14,000 lb. GVWR's. These trailers are all built with a 6 in. channel main frame and 3 in. crossmembers on 24 in. centers. The gooseneck and uprights are constructed with 8 in. channel. 5 ft. swing up ramps, a 2 5/16 in. adjustable gooseneck coupler, 12,000 lb. drop foot jack, heavy duty diamond plate fenders, stakepockets, rubber mounted lighting, and skip DOT reflective tape are standard features on all General Duty Gooseneck Equipment Trailers.
Our Professional Grade line is our best Gooseneck Equipment Trailer and is equipped standard with all our best features. The frame and tongue sizes on 10,000 lb., 12,000 lb., and 15,000 lb. models are the same as the General Duty series but we make the crossmembers closer with 16 in. centers. These premium models feature 16 in. premium radial tires, a 12,000 lb. drop foot jack, and an adjustable coupler. The 15,000 GVWR model features a heavy duty spring assist ramp upgrade. The 5 ft. swing up ramps use 4 in. channel ramp frame runners for today's heavier skid steers and mini excavators. A tool box with lockable lid, full reflective tape, and lifetime LED rubber mounted sealed beam lighting with a sealed modular wiring harness are also included on our Professional Grade Gooseneck Equipment Trailers.